The biennial Global Coach Conference was held this year in Prague. The two and a half day event, organized by the International Coach Federation (ICF), was impressive and impeccably organized, hosting 1000 participants from about 70 countries.  The conference was also a great digital experience, as participants could use an application called eventScribe to register for any of the 84 workshops and lectures, take notes and download pdf presentations.
Since I am relatively new to the world of ICF, having been a member for only a year, I looked at the conference as an opportunity to see and understand who is working in this profession, what they represent and how the profession is going globally. The conference opening was indeed convincing. Not only were the coaches from all over the world greeted with a standing ovation, but the opening speech of Magda Mook, president of ICF, was also very promising regarding the achievements of ICF over the past 25 years. Since 1995, when ICF was established, around 20 million people worldwide have received coaching services, and an additional 4 million have received volunteer coaching support at non-profit organizations through the ICF Foundation.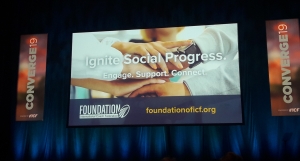 The subject of our fast changing, unpredictable, uncertain and complex world (the so-called VUCA world) was present throughout the conference and it was already addressed in the opening speech. Magda Mook emphasized that in this disruptive environment, when everything is in constant motion, what was good before is no longer good enough, and as a coach, we must look for more possibilities within and beyond: moving beyond what is toward what could be. Mook's message conveyed a certain mission of coaching asking us to reflect during the conference what is the greatest contribution coaching can give to humanity.
The conference was opened and closed with two internationally renowned keynote speakers both addressing important values ​​that I brought home with me. Frans Johansson highlighted in the opening lecture, called Navigating Unpredictability, that in the next decade, only those organizations will succeed who can build diverse and inclusive teams to bring together knowledge and experience from various backgrounds. New ideas explode at the intersection of different cultures, fields and industries. Those will win who can constantly look for opportunities to reframe the rules of the game, questioning assumptions, and who can draw inspirations from fields and culture other than their own, making knowledge transferable, even across industries. He gave an example of a hospital that had a high rate of unsuccessful surgeries due to poor communication between its operating room and intensive care unit. The hospital redesigned inter-departmental collaboration based on the Formula1 wheel replacement process, which eventually reduced the number of defective surgeries to a fraction.

In the closing presentation of the conference, Luvvie Ajayi talked about the importance of telling the truth as the coach's greatest value; no matter how uncomfortable it is. She acknowledged, however, that it is sometimes scary to tell the truth. She gave an important piece of advice to coaches. If it is hard to tell the truth to the client, we should ask them another question, or mirror them back what they are saying until they recognize the truth themselves.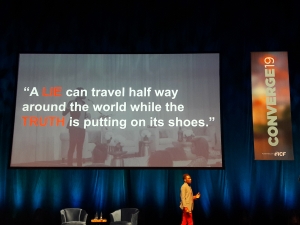 With the exception of these two lectures, all the coaches scattered, and went their way attending lectures and workshops of their interest. The lectures were divided into 4 groups. Sessions in the "Build" group focused on how to expand our coaching business and build a coaching culture inside organizations; the "Practice" sessions focused more on strengthening our coaching skills; the "Science" sessions explored evidence-based practices and the theories that underpin coaching; while sessions in the "Discover" group challenged coaches to offer insights to help the coaching community to prepare for the future.
Below I highlight only 3 presentations and workshops that were of particular interest to me.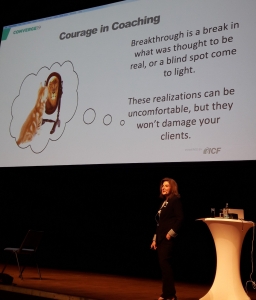 One of my favorite professionals in the world of coaching is Marcia Reynolds MCC, who was a founding member of ICF 25 years ago. Today, she's ranked among the top 3 most influential coaches in the world. She started by saying that she is aware of the challenges involved in obtaining the ICF coach credentialing and mastering the ICF core competencies, but the initial goal of ICF was to set a standard in the coaching market and help coaching raise as a profession. However, she also pointed out that the danger of being a technically well-trained coach is that the coach would focus more on coaching the problem than the client. Another danger of an over-competent coach is that the coach loses momentum and starts to focus on how well they are doing as a coach.
ICF defines coaching as a partnership with the client, a thought provoking creative process. Also, we need to honor the client as a whole person who does not need any fixing or healing. Our role as a coach is to create a psychologically safe space where the client can feel vulnerable, and can reveal what is blocking them. The coaching conversation should be transformative, not transactional, an internal process rather than external. To do so, the coach needs to have the courage to ask tough questions from the client. With deep listening and clear reflections we can "crack the frame" of their mind. The best way to achieve this is to detect any shift in emotions of the client and reflect the energy of what they are saying. We need to actively replay what is happening in the coaching session. However, mastering this skill must begin with us, coaches. She gave us a simple daily assignment to improve self-reflection: every day we should check the three most important things that triggered us emotionally during the day.
Another fascinating lecture was given by Julie Colbrese, an American psychologist and MCC coach. The title of the lecture was pretty obvious: Narcissists, sociopaths, psychopaths and other difficult executive clients. The lecture offered what the title suggested, an insight into really problematic clients. She began her talk by recalling that she had cold-called some 1,000 top executives at the beginning of her coaching career, offering them her coaching services, and she realized after a while that she had attracted quite a few difficult executives into her clientele. She got so fascinated by this that she completed a master's degree in forensic psychology to better understand them.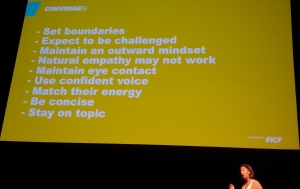 She presented some alarming statistics from a research conducted by forensic psychologist, Nathan Brooks: one out of 5 US CEOs are psychopaths about the same as incarcerated serial killers. Many times these leaders are aware that they are difficult people but they shake it off saying, "I know I'm narcissistic but I don't care". What really makes it hard to judge these executives is that they are also the high-achievers at their companies. She quoted from a book called Snakes in Suits: it seems that those with psychopathic tendencies are genetically pre-wired to become other people's bosses.
According to Colbrese, such leaders tend to come from a psychically-emotionally difficult childhood. Some of these difficult executives cannot be supported only with coaching; they also need some form of a therapy to confront their dark side of leadership. A 360 degree performance evaluation can be an effective tool, among others, because narcissists usually get sensitive about what others think of them. Colbrese concluded that if we wanted to transform the behavior of these difficult leaders, we should see the superhero in them, while also setting strict boundaries with them to protect ourselves.
The third workshop I particularly loved had some Hungarian connection. Ágnes Jagicza, executive coach and her associate, Timea Csontos, from Hungary, held a workshop with a world-renowned team coach, John Leary-Joys, on the usefulness of systematic team coaching. They set the stage saying that all organizational problems should be examined from a systematic point of view, placing the team into internal and external context. When developing a team, it is critical to be aware of the expectations of the various stakeholder groups and to understand how a team's performance fits into the wider strategic goals and mission of the organization.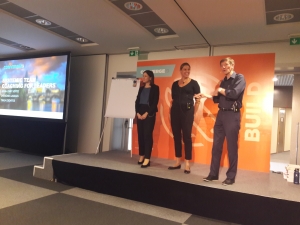 I left the conference feeling grateful for all these amazing lectures and seminars in the beautiful environment of the Prague Congress Centre. It also gave a great opportunity to connect to coaches from all over the world. I have a fond memory of a session where we group coached a Chinese woman. She was asked to be aware of the sensations in her body. She closed her eyes and put her hands into an interesting hand mudra I've never seen before. She later explained that when she is coaching someone she locks her energy into a mudra that evokes an ancient Chinese goddess, called "Guan Yin", the symbol of mercy and compassion in China. "The Chinese Maria, mother of Jesus" she said.