"I also have a little daughter, 5 years older than Jivon. As an adult, she wants to be an astronaut, a scientist or a writer. I want her to grow up in a better world than I did. I wholeheartedly believe that this can happen, and I will do my best to bring this dream closer to her. I wish all the little girls of the world have bigger and more wonderful dreams. " Author's Foreword, fall 2016
The first page of the novel already gives the reader a glimpse into modern day South Korean society. We are in 2015; 33-year-old Kim Ji-young is a stay-at-home mother in Seoul, looking after her 3 year old daughter while her husband is working for the three of them. The husband's parents live far away from Seoul, while the wife's parents run a busy restaurant in Seoul, which means "no one can help her ". And that gives the book a head start. One day, the husband notices strange symptoms in her wife: she swiftly changes identity, speaking in the voice of her mother or in the voice of his former fiancee. The woman is diagnosed with depression caused by child-rearing.
The story then goes back to 1982, when Kim Ji-young was born in Seoul and recounts key episodes in her childhood in an anecdotal manner, returning back to the present at the end of the book. The diary-like semi-biographical novel describes South Korea's social changes of the past 30 years, such as how women began to work massively in the 80s and 90s, juggling between work and family while also serving traditional female roles back at home. However, this alone should not cause the protagonist to fall apart.
The psychic disintegration of Kim Ji-young is due to the very low social position of women in South Korean society, which starts in the family where men have all the privileges. The following passage from Kim's childhood gives a hint at what she will have to encounter throughout her adult life: "At mealtimes, hot, freshly cooked rice was, naturally, served first to the father, then brother, and then grandmother. It seemed natural too, that the well-shaped, perfect pieces of tofu, dumplings, and pan-friend meatballs were meant for the brother, while Ji-young and her sister would reach for the pieces that had broken apart. (…) The mother often praised the sisters for not being jealous of the attention their younger brother received and taking good care of him. The validations made it even harder for Jiyoung to express envy."   
Perhaps this hard to express envy is the novel's key phrase, which may also be the root cause of so much confusion in contemporary South Korean society. Due to such an upbringing it will be "naturally" accepted by everyone that men have all the privileges while women face gender discrimination throughout their life. But then came the 1990s with its massive economic downturn in the Far East which shattered the patriarchal pillars of South Korea as women also had to take up work to financially support the family.
Once the novel goes through a narrative of the young woman's life experiences, such as how girls were reprimanded in high school for daring to report a sugar-daddy hanging around them at school, or how their male classmates got the best job opportunities in college, up until being stigmatized as a young stay-at-home mother, it's not surprising that having a baby becomes an unbearable burden for Kim Ji-young. First she has to give up her hard-won, successful PR job to become a mother, and then it turns out that their first child will be a girl. The reaction is the same from both families as at the time of her mother's pregnancy: "No problem, next time it will be a boy."
At a psychology conference earlier this year I heard from a lecturer that the most bizarre social phenomena of recent times are coming from the Far East to western society and that one of the starting points of social changes is South Korea. The novel touches on the latest South Korean fetish, namely that men install hidden cameras at workplaces and in public places in female bathrooms for peeping women from below while using the toilet. Cases have resulted in many women committing suicide in recent years. The following BBC video shows a South Korean police campaign to freak men out of their latest game of voyeurism.
One of the great merits of Born in 1982 is that it exposes the sexist society of present-day South Korea, reflecting on the life of a typical ordinary woman. Since its bestselling release in 2016, it has sold over a million copies in South Korea alone and has been translated into 18 languages around the world, especially posting strong sales in other Far Eastern societies, such as China and Japan. Sales exploded after South Korean President, Moon Jae-in, received a copy of the novel and read it. The book, however, has divided South Korean society as a gender war broke out, men stating that the book portrays them in an abusive and distorted way. The movie adaptation of the novel in October 2019 further triggered the battle between the sexes.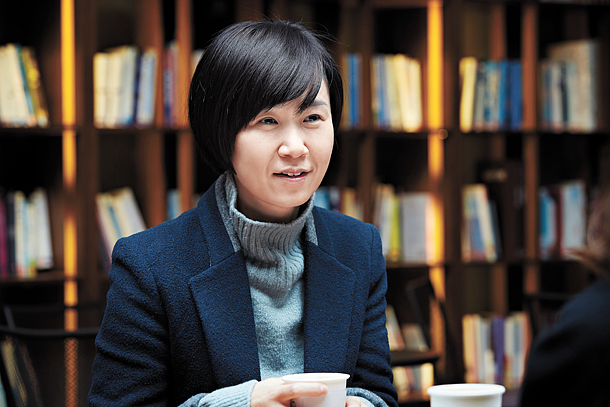 An interview with the author is available here in English.